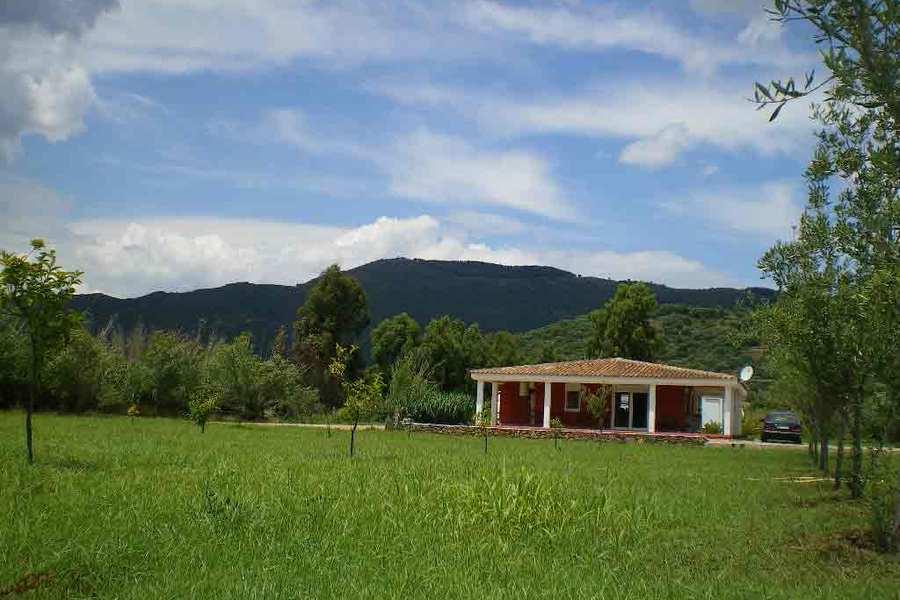 Egenskaper
trädgård
terrass
Beskrivning
Modern furnished holiday home (completely refurnished 2017) with magnificent views of the mountains, on a 4,500 m² of fenced land, amid the vast and green flood plain of the river Posada on the outskirts of Torpé, a small town (3,000 inhabitants) near Posada (4 km) and La Caletta (11 km). Who is not beaten but seeks the tranquility is in the right place, because it is a country house where you can relax undisturbed. But as a starting point for trips the house is very favorable. The nearest beach (Orvile) is about 5 minutes by car to La Caletta about 10 minutes. It loads but also for hiking in the mountains to Lago di Posada.
The house is furnished as a studio (40 m²) with open American kitchen, dining area, sofa area. A separate, by Italian standards, very large bedroom (16 m²) for two people and a comfortable sofa bed (by simple movement, the bed folded out the bed and conversely, bedding can be folded with) for 2 sleeps, a total of sleeping for 4 people. The bathroom is also bright and spacious with shower, bath, bidet, toilet, washbasin and a washing machine.
A Air Conditioning provides comfortable room temperature. A large flat screen TV offers for the entire space-fun (Terrestrial Programs Italy, Astra SAT). The TV is (unless the bedroom door is left open) and from the bed to look good (for example, in double occupancy).
The large kitchen is fully equipped with gas cooker (4 gas), Oven with Rotisserie, extractor hood, fridge and freezer, dishwasher, microwafe, coffeemashine. Pots, cooking utensils, crockery and glasses etc. are also plentiful. In addition, a fireplace is an outdoor grill.
are almost around the entire house is a covered terrace, dis protection from the sun and offers seating and bistro tables invite you to linger.
Sufficient parking spaces are available for free. Even the parking of a recreational vehicle (motor home, mobile home) is possible and electricity connections are available. May serve as the home base for excursions. Public Transportation (Bus to Olbia (40 km) including the airport) is available from Torpé (about 15 minutes walk) is available. A car is definitely an advantage.
The water supply outside of Torpé is powered from the Lago di Posada. Filter to clean installed of course. Since the water is not chlorinated, it can come in summer to yellow. Personal hygiene, washing and flushing the water is safe to use (we use it even for cooking).
Pets such as small dogs are welcome and have great possibilities to run the extensive grounds, with its many olive and citrus trees.
The garden is rustic and wild.
Detaljer
Hus

Totalrenoverad/inflyttningsklar

65 m²

1

1

4,500 m²

4500 m²

70 m²

Freestanding house with huge garden
Avstånd från:
Avstånden beräknas fågelvägen
237.9 km

7.6 km - Ospedaletto

5.0 km

297.0 km
I närheten av denna bostad
1.2 km - Apotek

14.8 km - Veterinär - Ambulatorio Veterinario Melinu Dott.ssa Giovanna
Information om Torpè
24 m ö.h.

91.5 km²

Kustbacke

2870
Kontakta ägaren
Privat ägare
Oliver Haeberle
camino lo pastor 4, Alicante, Alicante
00491728305699