Mäklare
Agenzia Immobiliare Bonapace & Cereghini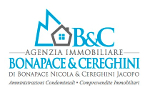 Agenzia Immobiliare Bonapace & Cereghini
Via Durone, 9/B
Tione Di Trento - Trento
+39 0465 324212
Our Real estate agency is situated in Tione di Trento, geographic center and economic pivot of the Valli Giudicarie area, in which there are also Val Rendena and Madonna di Campiglio.
We have the possibility to offer to our customers a wide range of properties both for tourist use and residential one or as vacancy houses.
Thanks to the experience accumulate and to the deep knowledge of local market and surrounding, we make available to our client a mix of supplements able to satisfy the needs of the buyers, the sellers or for those who search properties.
The seriousness and the professional competence demonstrated in all pertinent aspects of transaction are our best business card. From several years we are also associate to the FIAIP . Italian Professional Real Estate Agents Federation. Furthermore of the property transaction we handle of condominium administration, and we are listed in the National Association of Condominium and Properties Administrator. (ANACI). Do not hesitate to contact us, we are always at your disposal.
Bostäder till salu av Agenzia Immobiliare Bonapace & Cereghini
:
55
Sökresultat för: Agenzia Immobiliare Bonapace & Cereghini